Live at the Wildey Theatre on May 31st, 2013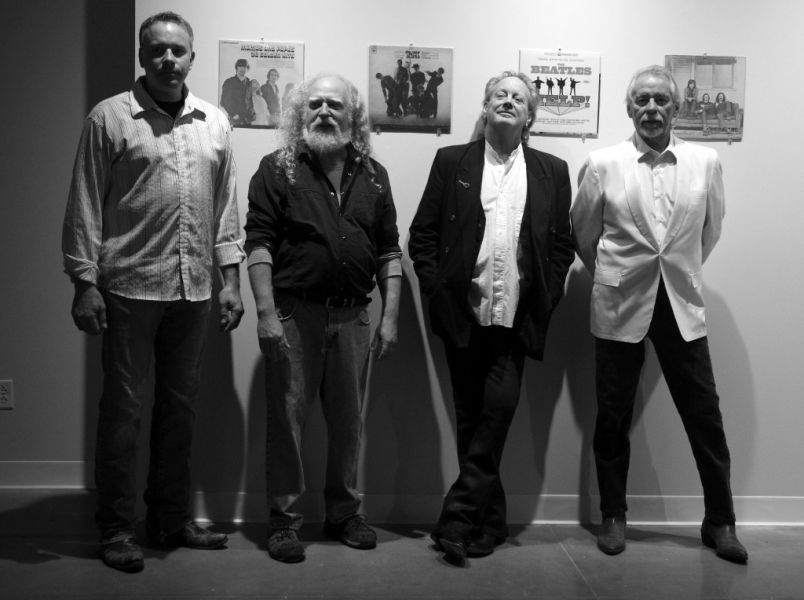 While serving as a the Theatre Manager at the Wildey Theatre, Bedell worked with the rental and oversaw the concert production of Younger than Yesterday.
"Michael Curtis, Terry Jones Rogers, Scott Nienhaus and Tim Politte, put out nonstop four part vocal harmonies flawlessly throughout their entire show. These four musicians are carrying on the strong tradition of the music of The Byrds in the most professional manner, and to hear these guys perform these songs is a pleasure not often available in today's music world!!!" T.P. Douglas~Granger Fest
This is the last incarnation of the classic rock band THE BYRDS…featuring:
Terry Jones Rogers… The Byrds with Michael Clarke & founder of The Byrds Celebration
Michael Curtis… The Byrds with Michael Clarke & Gene Clark (former member of Crazy Horse)
Scott Nienhaus…. The Byrds Celebration (former member of Firefall, Nicolette Larson Band)
Tim Politte…. The Byrds Celebration (former member of Nicolette Larson Band)
The members of YOUNGER THAN YESTERDAY have all been associated with the legacy of THE BYRDS since the late 70's, starting with Michael Curtis, who had moved to Los Angeles with his brother Rick, after they had accepted an invitation to join the group CRAZY HORSE. Los Angeles brought many new associates and friends, like Lindsey Buckingham and Stevie Nicks, Graham Nash and Steven Stills to name a few, eventually leading to CSN recording a Michael/Rick Curtis tune, "Southern Cross" with a co-writing credit of Steve Stills, and Fleetwood Mac covering a Michael/Rick Curtis tune "Blue Letter". During a hiatus from touring with Hoyt Axton, Michael was enlisted to work with founding members of THE BYRDS, Gene Clark and Michael Clarke in their 20th Anniversary TRIBUTE TO THE BYRDS, along with former BYRD John York, leading to several years touring and recording through the 80's with THE BYRDS featuring Gene Clark.
Terry Jones Rogers accepted an invitation to join THE BYRDS featuring Michael Clarke, towards the end of 1988, flying to Los Angeles to rehearse with Michael Clarke, Skip Battin, John York and fellow newcomer Jerry Sorn, before starting a National Tour in 1989. After John York returned to California to be with his expectant wife, Skip Battin stepped from behind his piano and up to his old bass guitar position, stabilizing a strong 4 piece line up of Michael Clarke, Skip Battin, Terry Jones Rogers and Jerry Sorn, continuing to tour until Michael Clarke's untimely passing in December 1993.
THE BYRDS CELEBRATION was formed in 1994 in Nashville,TN by Terry Jones Rogers and Skip Battin, after Terry moved there on the advice of Michael Supe Granda of The Ozark Mountain Daredevils, whom he had met when Granda joined The Byrds with Michael Clarke in the early 90's. Another friend of Granda's, Scott Nienhaus was introduced and then invited to join the newly formed group along with former Byrds member Gene Parsons, touring Europe with this line-up. In 1996 Michael Curtis joined the group after relocating to Nashville from Los Angeles, as well as drummer Tim Politte who had worked in Acousticity and The Nicolette Larson Band with Scott Nienhaus.
Now in 2013 after a successful tour of Brazil in 2012 and recording a new CD of their original material including the Michael Curtis penned songs, "Southern Cross" and "Blue Letter", YOUNGER THAN YESTERDAY~with former members of The Byrds invites you to a "BYRDS CELEBRATION" as they celebrate the timeless music of THE BYRDS, with classic hits like:
TURN, TURN, TURN … 8 MILES HIGH … CHIMES OF FREEDOM …. MR. TAMBOURINE MAN … SO YOU WANTA BE A ROCK & ROLL STAR and more!! Along with some of their new material!!!
This is a special CD release event!!! All ticket prices include the new CD!! Don't miss this rare performance at The Wildey Theater in Edwardsville,IL!!!!!! http://byrdscelebration.com